It's almost laughable watching the hair-on-fire across the Canadian Internet over CanPar's decision, effective immediately, to stop carrying firearms and ammunition.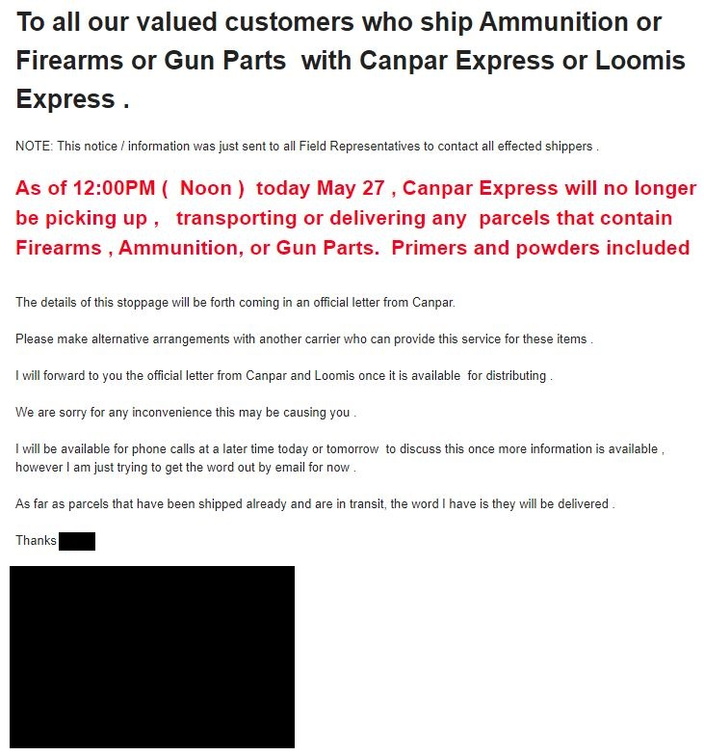 Here's what I know so far:
1. Canpar and Loomis are both owned by TFI International, a transportation conglomerate based in Saint-Laurent, Quebec.
2. As a privately owned company, CanPar is free to make whatever decision it believes is in its own best interests. That includes refusing to ship firearms and ammunition (or any other product).
3. While spokespeople and gun owners across the web insist CanPar caved to some 'woke mob' or other political pressure, the reality is nobody knows why CanPar made this decision or why it gave longstanding customers no notice of it.
CanPar execs will explain themselves in due course, I am led to believe, but that hasn't happened as of the time of publication.
4. I am waiting to find out why the decision was made before coming to any conclusions about its motives.
For all we know the RCMP revoked their permission to transport firearms and ammunition because of the many published accounts of CanPar leaving firearms and ammunition on peoples' front doors – despite the requirement for a signature to prove delivery.
"I'm willing to bet they got in shit too many times for delivering guns and ammo to the wrong address or leaving it outside without signatures."
The Usual Suspects
The usual suspects are going Live on Facebook and issuing mighty press releases to assure us 'they're working hard for Canada's gun owners'.
Of course they are.
Any injustice, whether real or imagined, is a great moneymaker for some firearm groups – even when the issue is none of their business.
Responding to and dealing with the fallout of CanPar's decision is solely the  responsibility of The Canadian Sporting Arms And Ammunition Association (CSAAA) – Canada's firearms industry association – and they've been on this since news first broke.
When CSAAA has something to announce, they will do so.
While there is no information available the CSAAA website, NFA President Sheldon Clare says this entire fur-ball may be vomited out as fast as it became lodged in our collective throats.
CSAAA and NFA have communicated on this matter, and we are optimistic that service may be restored.
In the meantime, please remain calm about the matter, and especially do not make angry statements about Canpar and TFI.
That last bit is great advice.
Let's hope that is true but, even if service is restored, there are literally dozens of other shipping options for Canadian firearms and ammunition retailers.
My bet is many of those firearm businesses hung out to dry with no notice will seek one of those alternatives, no matter what CanPar and Loomis decide.
The way people are freaking out about this CanPar decision, you would think Canada Post – the only shipping option specifically mandated by the Regulations for Canada's Firearms Act – vanished from the face of the earth on May 27th, taking every other shipping company with them.
Hate Mail?
If this column made you angry, please direct your Hate Mail to hatemail@christopherdiarmani.com.